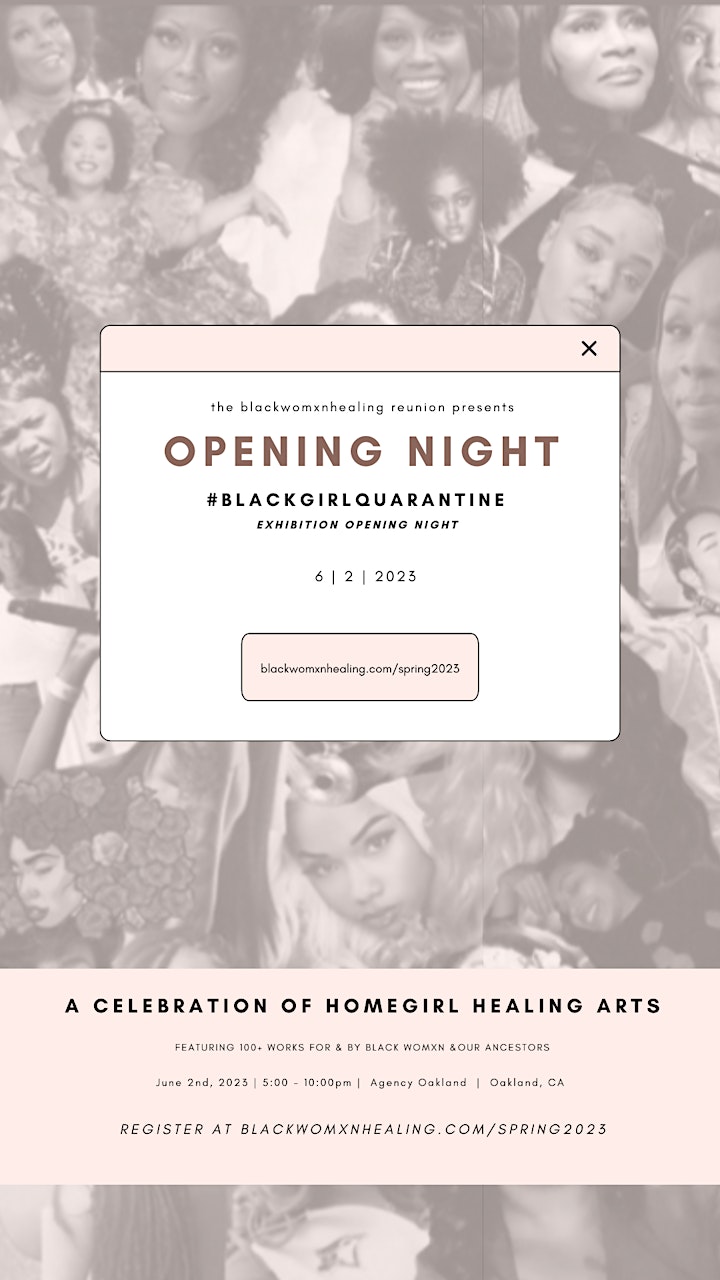 *COLLAGE BY: COURTNEY LETT
JUNE 2 | 5:00 - 10:00 PST | AGENCY OAKLAND
2150 Livingston Street Oakland, CA 94606
MUSIC | JOY | ART | HEALING
BLACKWOMXNHEALING & #BLACKGIRLQUARANTINE
blackwomxnhealing is an intergenerational healing arts collective that hosts biennial exhibitions for and by Black womxn + Black women + Black womyn.
in 2021, we curated #blackgirlquarantine: an exhibition of blackwomxnhealing in the wake of 2020virtually due to the COVID-19 quarantine.
our 2023 exhibition series features an in-person installations of #blackgirlquarantine as the backdrop for community healing events that invite Black women and our loved ones into celebration, restoration, creativity and healing.
*for more information on blackwomxnhealing, visit blackwomxnhealing.com, and to view the virtual exhibition, visit blackwomxnhealing.com/blackgirlquarantine.
OPENING NIGHT
The #BLACKGIRLQUARANTINE Exhibition Opening Night is the first in-person exhibition installation of #blackgirlquarantine, featuring 100+ artworks for and by black womxn from the COVID-19 pandemic.
with free food, good art + good vibes, this gathering invites community to celebrate the everyday roun the way Black feminist healing arts of Black women who used our creativity to tell stories of survival amidst pandemic times.
on opening night, we extend a special invitation to our folks + our allies to celebrate and invest in Black women's art. 
come prepared to dance to DJ Ignacia's turn table set, eat some yummy treats from Oaklandia, offer up prayers and libations for our ancestors, and purchase from your favorite Black women-owned healing-centered vendors. it will be an evening you don't want to miss!
*this is a family friendly gathering, and our allies are encouraged to join us!
we'll see you soon, family!!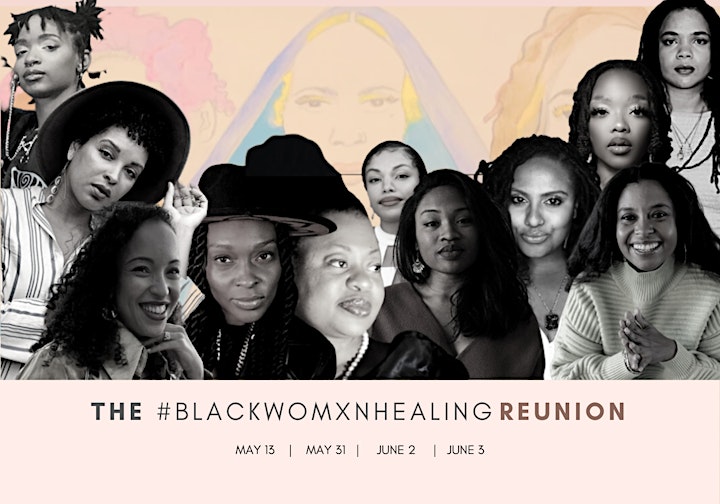 *THIS EVENT IS A PART OF THE BLACKWOMXNHEALING REUNION EXHIBITION SERIES. TO LEARN MORE ABOUT THIS SERIES, AND TO REGISTER FOR OUR OTHER EVENTS, CLICK HERE.
THE BLACKWOMXNHEALING REUNION IS A HOME/COMING FOR THE HOMEGIRLS WE HEAL WITH.
we invite black womxn + our loved ones to celebrate our everyday roun the way Black feminist healing arts through a series of gatherings that feature 100+ artworks for us, by us, unapologetically.
MAY 13 | MAY 31 | JUNE 2 | JUNE 3